Yu-Gi-Oh 2022 Tin of the Pharaoh's Gods
Yu-Gi-Oh 2022 Tin of the Pharaoh's Gods
The YU-GI-OH 2022 TIN OF THE PHARAOH'S GODS has arrived at TIstaminis. The third and final piece of an ancient legend is finally here! You can wield the power of the Pharaoh's Gods with a beautiful new tin that depicts the top section of the Tablet of Lost Memories, immortalizing Slifer the Sky Dragon, Obelisk the Tormentor, and The Winged Dragon of Ra.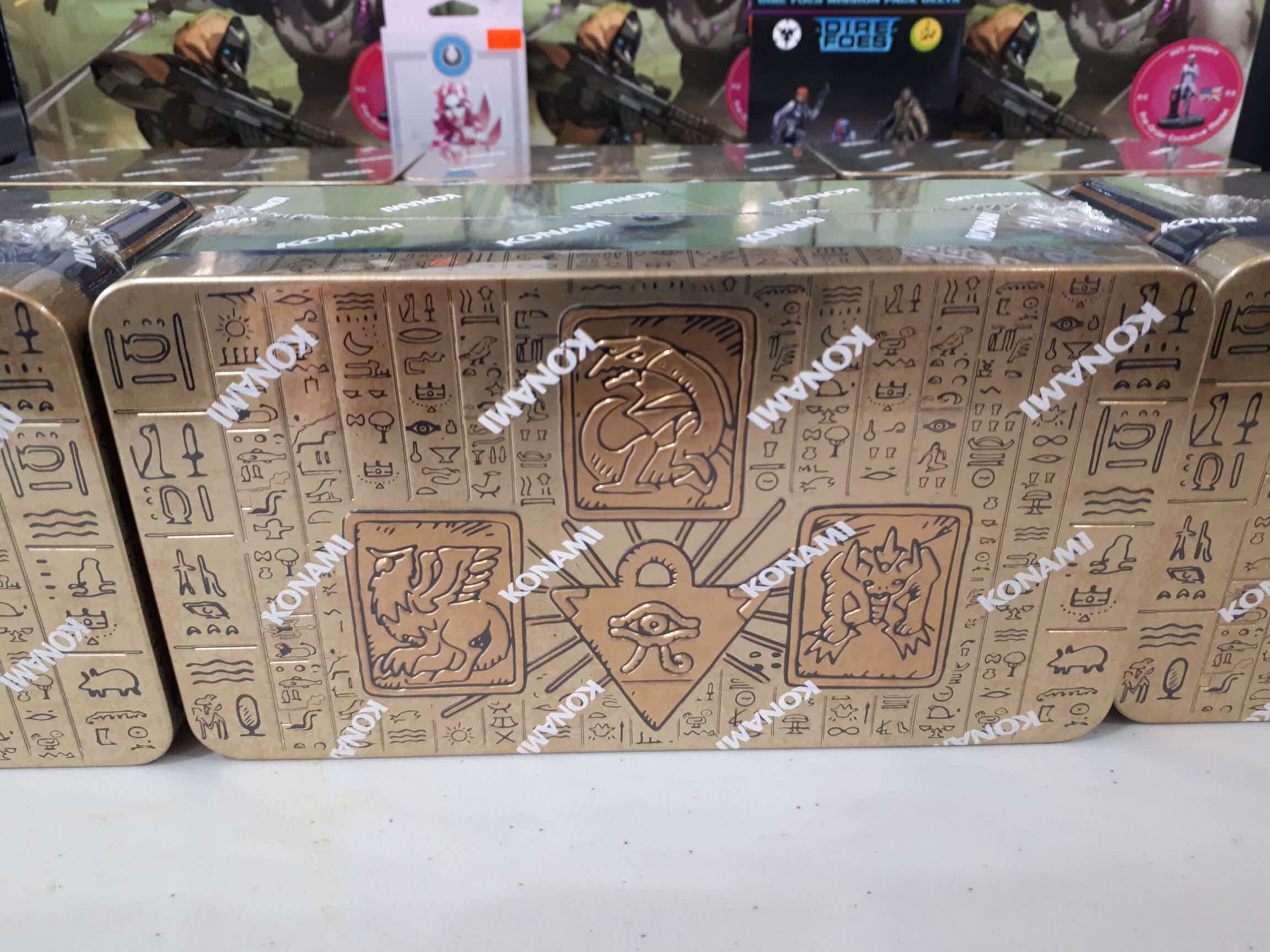 The 2022 Tin Mega-Pack mega-set is primarily made up of popular cards released in 2021. Featuring cards from Blazing Vortex, Lightning Overdrive, Dawn of Majesty, Burst of Destiny being reprinted for the first time - and more! Playing Yu-Gi-Oh competitively can be expensive as certain must-have staples become more and more sought-after, so these important reprints are very much appreciated by the gameplay community.
If you need some relevant staple cards or really good pieces for decks that have received support over the last two years, this is your place. Some very playable high value cards in here like Pot of Prosperity, and fan-favourite classics with new artwork - including Blue Eyes White Dragon & Dark Magician Girl! This tin also includes multiple high-value reprints and imports from the Asian OCG that will help better shape the metagame for months to come after the tins release. More support for the Fusion meta also comes in the form of Destiny HERO – Destroyer Phoenix Enforcer or Red-Eyes Dark Dragoon, both of which are locked in at that Prismatic Secret Rare spot too.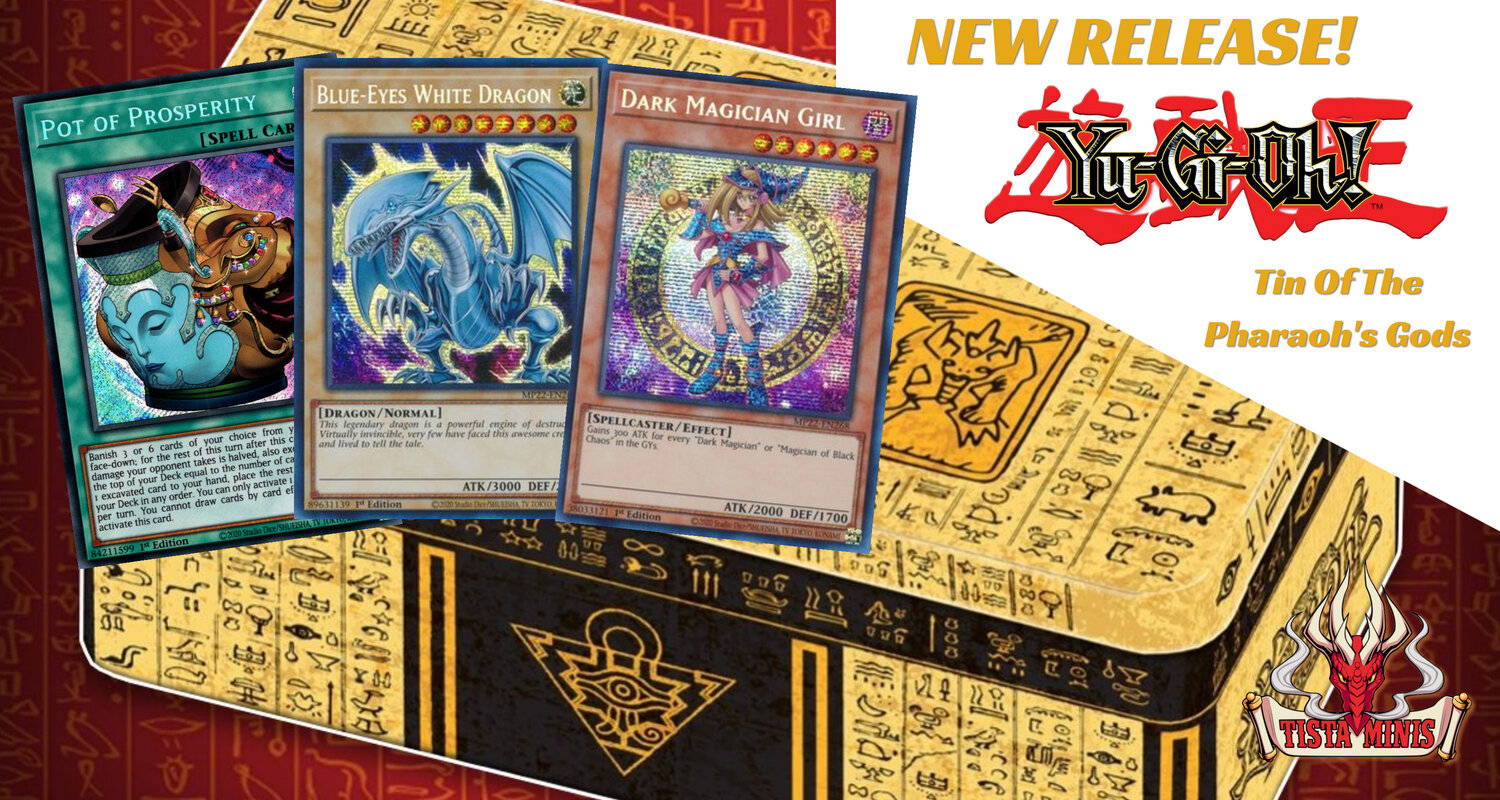 As mentioned, this 'Greatest Hits' set features Alternate Art variants of the Blue-Eyes White Dragon, Red-Eyes Black Dragon, and Dark Magician Girl in Prismatic Secret Rare. Reprints of Ash Blossom & Joyous Spring, along with two other ghost girls, Forbidden Droplet, Lightning Storm, Crossout Designator, and Pot of Prosperity in that same rarity are also welcome reprints for meta-relevant staples. Fans of the anime will be excited to see Duel Tower here, a Spell based on the iconic ending location for Battle City in the Yu-Gi-Oh! show, and Rainbow Bridge Salvation, a likewise key story point in Yu-Gi-Oh! GX. There will be plenty of value for players of all walks here, including Egyptian God Card fans who want to pick up more support in the form of The Revived Sky God, The Breaking Ruin God, and The True Sun God.
Just like the 2020 Tin of Lost Memories, 2021 Tin of Ancient Battles, and the 2022 Tin of the Pharaoh's Gods have embossed/debossed sides, and rimless lids that fit flush with the tin body, allowing the tins to be stacked on top of each other to build the entire tablet. If you already have the 2020 and 2021 tins, picking up this tin will allow you to complete your very own tablet!
Each 2022 Tin of the Pharaoh's Gods will contain 3 extra-large Mega-Packs, each with 1 Prismatic Secret Rare, 2 Ultra Rares, 2 Super Rares, 1 Rare, and 12 Commons from a huge mega-set.
Each Tin contains in total:
3 Prismatic Secret Rares
6 Ultra Rares
6 Super Rares
3 Rares
36 Commons
These collector tins are becoming a welcome yearly addition to the line of products for the YU-GI-OH TCG for both collectors and gameplay enthusiasts, loaded with tournament staples, rarity upgrades, tech choices, and reprints galore!